Contact details
9737 Bük-Bükfürdő,
Ifjúság Str. 22.
Phone: 003694558650
Send e-mail
Leisure activities
Bükfürdő - Health and adventure centre of Bük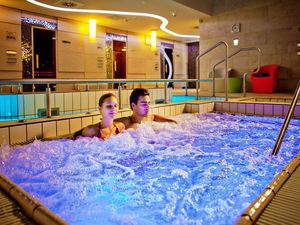 There is a wonderful place in the West Transdanubia region of Hungary where all generations will find an opportunity for perfect recreation.
Bük found an enormous treasure by discovering hot water near the town's boundaries. The thermal waters of unique components containing more than 15 000 mg/l minerals were classified as medicinal water in 1965, and with the construction of pools, and later on a covered spa followed by further developments Bükfürdő gradually became a medicinal spa and healing centre known across the whole of Europe.
The Bükfürdő Health and Adventure Centre is a real paradise for anyone wishing to find an opportunity for healing, relaxation, recreation and bathing. The spa complex located in a 14-acre park with shady trees includes 32 medicinal, swimming and adventure pools covering over 5 000 m2 of water surface, a modern Sauna World and a Wellness Centre, a recognized Therapy Department and a campsite to be enjoyed by our guests.
Those wishing to find healing may enjoy the medicinal pools, the medicinal and wellness treatments, cures and some quiet relaxation, while families with children will be able to use the various adventure and paddling pools with indoor and outdoor slides, a playground and a playroom equipped with colourful toys offering fun and adventure, and there are several sports facilities and swimming pools for those preferring active relaxation, along with various programmes and entertainment to be enjoyed by all.
Several restaurants and snack bars offer delicious foods to our guests.
Discover the magical world of Bükfürdő!
Related gallery:
«

Back to the previous page!